Is Your Team Qualified?
For nearly 60 years, NICET has helped PEs ensure the entire engineering team is highly qualified. From concept to completion, your project deserves the quality work NICET-certified technicians can provide.
NICET is a nationally recognized evaluator of technical knowledge and experience among those working in the fields of engineering technology. The Institute's certification is a respected credential that sets the mark for qualified technicians.
Hiring and promoting
NICET certification takes some of the guesswork out of applicant screening by identifying those technicians who have acquired a minimum amount of relevant work experience and who have demonstrated their knowledge by meeting a rigorous exam requirement.
Measure job applicants' skills and knowledge against an objective national standard
Provide incentives and promotions for staffers who increase their capabilities
Diagnose the training needs of your staff
Show your technicians that you appreciate their professionalism
Marketing your business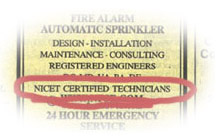 A NICET-certified work force indicates to your customers and potential customers that your personnel are qualified and that your organization is committed to excellence.
You'll give your customers peace of mind when they see the NICET mark and support statement in your brochures, yellow pages ad, company letterhead, website, and staff business cards.
Ensuring that work done under contract is performed by qualified technicians
Indicate requirements for personnel qualifications in RFPs, specifications, and contracts. NICET provides a system in which personnel can reach and maintain a nationally standardized level of technical capability and competency. By requiring NICET and/or other certifications, Fire Marshals, Departments of Transportation, and other specifiers provide greater protection of the public.
---
These are just a few of the common uses for NICET certification by employers and specifiers around the country. If you would like a NICET representative to meet with your organization, please contact us at 888-476-4238 or tech@nicet.org.
For more information:
Visit NICET's Certification area and select a program for more information about examination content and certification requirements.
Visit NICET's "Jobs and Careers" area to browse ads posted by your peers and competitors across the United States. Click on the "Post a 'Position Available' ad" link to begin searching for a NICET certificant for your team.
Questions about how NICET certification can help your company or organization?
Please e-mail NICET or call 888-476-4238 or 703-548-1518.