New Online Candidate Portal--Action Required
NICET is introducing a new portal – an electronic gateway for our candidates, certificants, and other users - which is expected to be live by October 22, 2019. This new system will streamline the application process, ease communications, and improve the overall customer experience. We will be using the new system to collect all certification and recertification applications, and as the central hub for communications with you. The following is an overview of the key features and how to use them.
Once the new system is live, you will need to reset your password, as your current NICET password will not work in the new system. Everyone with a login in our current system will receive an email to reset your password. There will be a way to reset your password on the NICET website.
Remember: News from NICET may or may not mail to the same email you have in your NICET record. Please login or contact us to ensure we have your current preferred email.
New Login Screen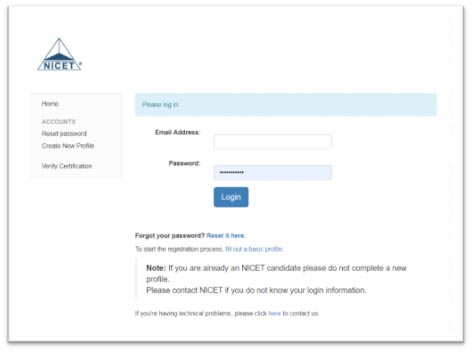 Work History is Profile and Profile is Work History
Going forward, Work History information will be stored in your "Profile". Work History can be updated from a number of places and the information is the same regardless of where you enter it.
Once you are logged in, your email address will be displayed in the upper right of the screen. Clicking your email will give you a "Profile" option. Clicking "Profile" displays your contact information and a link to "Update profile". By clicking "Update profile", you may update your contact information, view previously submitted Work History, and add Work History.
Work History is displayed and may be updated in the application and through the Active Practitioner category under Manage Your CPD.
Applications
Once you are logged in to the new site, begin the application process by clicking "Apply" in the left-side navigation. Search or page through available certifications to find the subfield and level you are interested in, then click "Start". This will display a "card" with certification requirements. Click the exam name to complete the transaction for the exam.
Once you complete the transaction you will be connected directly to the Pearson VUE scheduling system to choose your exam date and location. You will have 90 days to schedule and complete the exam. We recommend you schedule immediately for best scheduling options.
Next, click "Apply Here" to submit experience documentation.
To request performance verification or a personal recommendation simply enter the verifier's or recommender's name and email where indicated. NICET will send verifiers and recommenders an online form to complete on your behalf. These sections of the application will update once the forms are complete.
Next, update your Work History.
If you are applying for a Level IV certification, complete the Major Project write-up as a separate document (word, pdf, etc.) and upload where indicated.
Then confirm that verifications and recommendation (if required) are complete and click "Save Changes".
NICET will continue to review "Submitted" documentation in the order received after you meet the exam requirement.
SAMPLE Subfield/Level Card: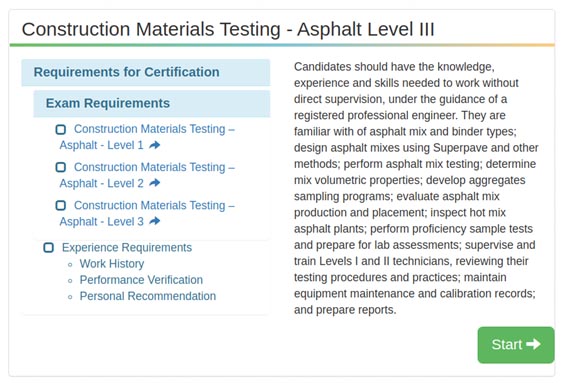 Recertification
Click "Manage your CPD" to see claimed CPD points -- or to add additional points by clicking "Add CPD Credits". Select a category from the drop down menu and enter your points. Remember to update your Work History in your profile for the Active Practitioner category. Six months before your expiration date a payment button will become available. Once you complete the payment and submit the 90 CPD points, NICET will review your submission.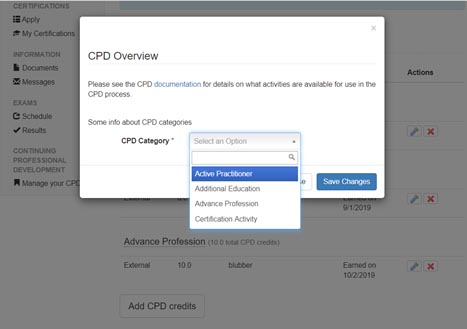 Communications
The best way to communicate with NICET is through the messaging feature. You will see two links in the left side navigation under "INFORMATION". The first is "Documents", ignore this one for now. Then, "Messages". If NICET has a message for you, you will receive an email notification and see an indication next to "Messages".
The messaging feature will capture inquiries and responses between you and NICET. You will no longer have to search for email or hardcopies as you progress through the certification process.
We Appreciate Your Patience!
While we are certain you will be pleased with many of the new enhancements, any big change like this may take some getting used to. Initially we expect higher than normal call volumes and potential delays in response times. In the coming weeks we also expect to learn from you; and we will continue to implement additional enhancements and improvements. As always, we welcome your feedback as we make the transition to the new system.