COVID-19 Statement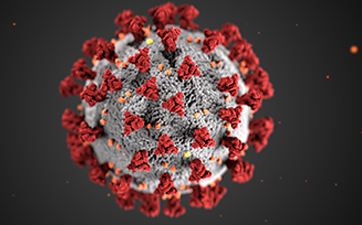 As members of the Engineering Team, NICET-certified engineering technicians and technologists understand the importance of holding paramount the public's health, safety, and welfare. Likewise, NICET recognizes its obligation to protect its employees, volunteer subject-matter-experts (SME), and customers in its operations and in the services being provided. In this connection NSPE/NICET continues to monitor international, national, state, and local developments arising because of the Coronavirus outbreak; and will take all appropriate steps consistent with the guidance issued by the Centers for Disease Control (CDC).
NICET Exams
NICET relies heavily on our test administration provider, Pearson VUE, to manage their testing centers in a manner that provides maximum protection to their staff and NICET examinees against any disease, and specifically COVID-19. However, as the situation changes daily – so must Pearson VUE which in some cases causes appointment cancellations. We apologize for any inconvenience this may cause. If you receive notification that your appointment has been rescheduled to a site in Minnesota, please be aware it is a non-existent holding location. We highly recommended rescheduling your examination through your online account in NICET's portal instead of calling Pearson Vue. Follow the below procedure in obtaining a new test date/time:
Rescheduling your NICET exam has never been easier and in most cases does not incur any additional fees. Additional fees may apply if rescheduling is attempted within 24 hours of the appointment time, the eligibility window expires, or there is less than 24 hours until the eligibility expires.
The best way to reschedule your exam is to use an up-to-date modern web browser other than internet explorer, login to your NICET account and "click "Schedule" in the left side navigation then "Schedule with Pearson VUE" for the exam you want to reschedule.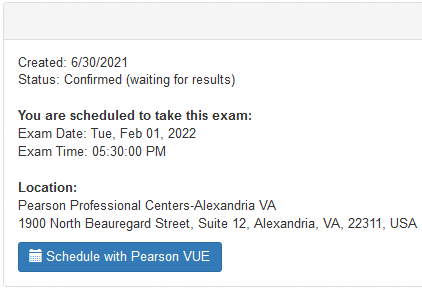 Then click the exam name to view the appointment then "Reschedule" on the right side of the screen.
Caution: Just like the original scheduling process there are several screens, agreements, and confirmations. The process is not complete until you click the "Confirm Reschedule" button, see the notice: "Your Appointment is Rescheduled" and receive a confirmation email. Failure to complete the process and missing your appointment does incur a rescheduling fee.
You may also call Pearson VUE at 1-866-880-0048 to reschedule. However, significant wait times can occur.
Candidates who are testing using the online remote proctored (ONVUE) option may reschedule their appointment date/time right up until their appointment without incurring additional fees. Just follow the same process as detailed above.
If you need to reschedule under the 24-hour mark, or after your eligibility window expires, email your request to test@nicet.org. We will then respond with the rescheduling process. Please provide your name as it appears in your candidate account and your NICET ID.
Candidates may need to expand their search for available times to several months into the future. If you need assistance – please contact NICET directly at test@nicet.org. All candidates should review and must adhere to all protocols at Pearson Vue testing centers directly on Pearson Vue's website.